Quite often, people are surprised when they find out what we do at Wave Studio. The first question that pops in is: are live wallpapers so in demand? The short answer is: "Yes, have you seen our download numbers?". But to offer more clarity on the subject, we want to give you a longer answer in the following lines. We found a moment to look back, chew over, and assess the state of smartphone live wallpapers.
So keep reading to learn more about the mobile apps business we're still growing with our wavesome team. And since you are here, you can check out our mobile development job openings and say "Hello" if you see a match made in heaven.
Market insights & demand
Let's dive into some insights helpful in understanding how popular this type of media was over the years and still is, since we've managed to build a successful business out of it.
Live wallpapers, also referred to as animated backgrounds or live backgrounds – just to name the most popular uses, are one of the simplest ways to refresh and enliven the UI of a device. If you wonder who is using this feature, here is some data from Google Trends, just to give you a grasp on the topic: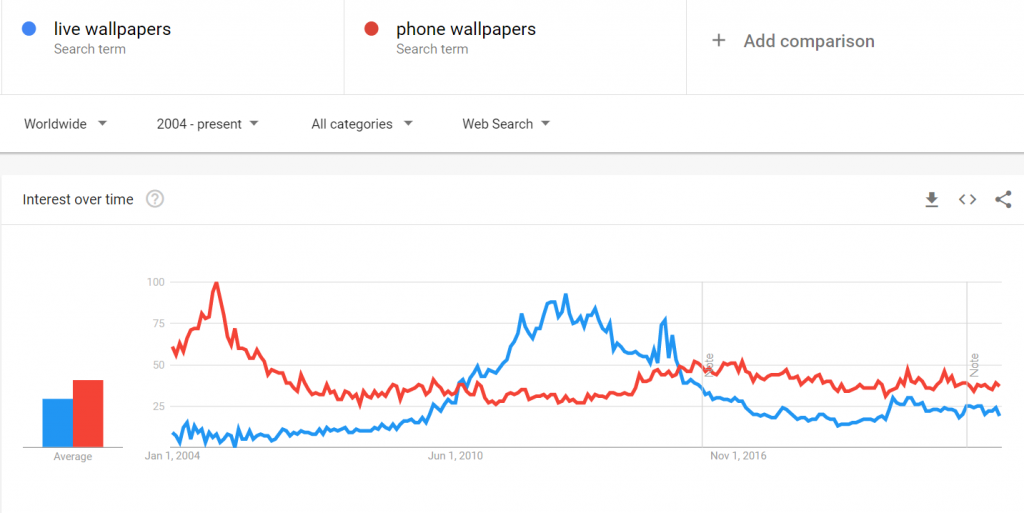 Here is a graphic generated with Google Trends – a useful tool that shows what people on the Internet are searching for and to what extent at specific times. So we have an overview and a comparison of the interest in live wallpapers and phone wallpapers worldwide over the years. You can clearly notice the hype live wallpapers got right when they became popular on more and more devices.
We think the line decreased because the novelty passed and due to devices' constraints at that time. Another reason is that while more users continued searching for phone backgrounds, the personalization providers have multiplied and diversified the wallpaper options. At the same time, users have learned to search for more specific wallpaper topics they like.
In the comparison below, the "phone wallpapers" line is slightly descending because the way people search for what they want has refined and branched out. So the phone wallpapers market has grown and expanded. Naturally, this trend follows the global smartphone market, which sells around 300M devices yearly.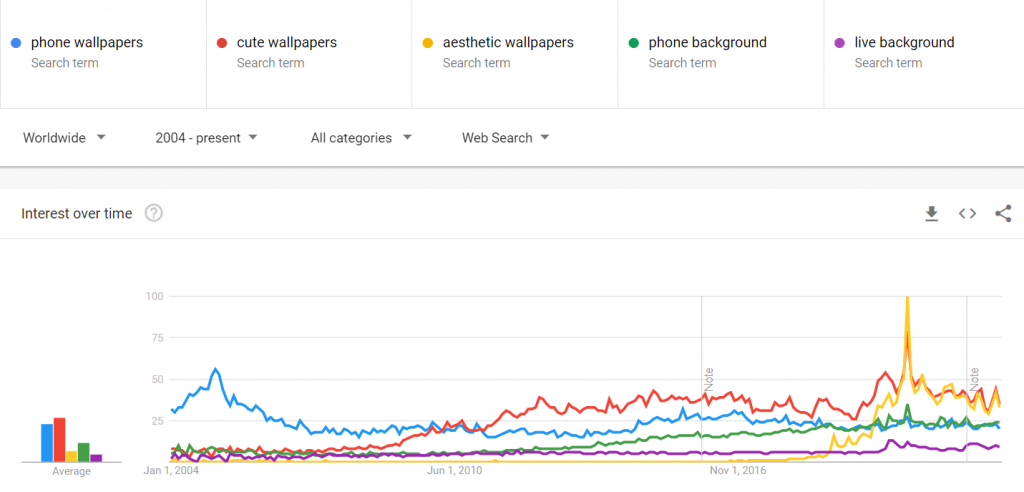 To give you an idea, below is a very short list of the current global search volume per month (according to ahrfes.com), for some of the keywords related to our domain:
live wallpaper – 294K
live wallpapers – 75K
phone background – 29K
phone backgrounds – 91K
wallpapers – 392K
cute wallpapers – 565K
aesthetic wallpapers – 278K
This only represents a highlight from 12,142 tracked keywords (wallpapers related) with a total monthly search volume of 6.4M. There's definitely a lot of attention to the topic of phone personalization and live wallpapers.
Another good indicator of interest in this type of personalization product is the excellent results we always got from our paid advertising campaigns. Since we launched, this has been our primary growth engine, ensuring monetization and a good market overview to scale the business. But this year, we made a significant breakthrough in this area by creating a new model to scale user acquisition that got us more than 30% growth in ad revenue.
Android vs. iPhone Wallpapers
We strive to optimize and deliver high-quality backgrounds for both iOS and Android users; so we have a good grasp of both worlds. The numbers are always growing. It's safe to say that curiosity and enthusiasm for the apps category hosting Personalization products are continuously increasing. As a reference, here is a view from SensorTower, one of the tracking tools we constantly use:
When the demand is high, so is the competition. Therefore, we always aim to be ahead of time, delivering the best live wallpapers possible. With this mindset and our talented team, we constantly establish new benchmarks of phone backgrounds for each operating system. While for iOS we can offer video wallpapers with unique designs and stylish widgets, for Android devices, we can deliver some really amazing products. From parallax 3D to interactive working watches or the new type of interactive wallpaper we developed this year: activated through a double tap, for extra fun.
In 2022, we launched a new version of our phone backgrounds dedicated website. Here users can find all the wallpapers available through our iOS and Android apps, including the ones created by our community from the Play Store, which is exponentially growing. We've just passed 215M downloads across all our apps and we are not settling.
What's next in phone backgrounds?
In terms of visual content, it looks like AI image generators are the next big thing. So it made a lot of sense for us to develop our own tool and integrate it into the creators' section of our most downloaded app – Wave Live Wallpapers. The plan is to continue expanding the wavesome universe, loaded with cool and so diverse phone backgrounds art. We can't wait for the website updates and the new in-app features we are working on right now.
Definitely, there are a lot of things going on in the Tools & Personalization category, and we are still very excited to be right in the middle of it, driving things further. Keep in mind, we always look for new talented colleagues. If you are skilled in an essential role connected to mobile app development and you think it would be interesting and fun to work together, don't be shy. Even if none of the current job openings fit your profile, we'd like to hear from you.