With this blog post, we want to provide an image of how life is when working at our company. At Wave Studio we believe in working smarter, not harder, and our remote work policy reflects that. We know that there are plenty of benefits when it comes to working from home and we have built a culture that feels like it embraces them all.
Quality over Hours
First of all, let's talk about how we evaluate our work. We rely on setting clear objectives and goals, while trusting our wavesome team to achieve them in their own time, knowing our priorities. That's why we don't count hours clocked in but rather focus on the quality of the work delivered. We know each task takes different amounts of time depending on who's tackling it, and that's cool with us! So we trust our team to manage their schedule in a way that works best for them – just don't be a slacker (unless we're talking about the communication tool, of course)! This approach keeps us flexible, adaptable and ensures our team feels empowered and valued.
Navigating a Fast-Paced Workplace
Working in a fast pace environment, typical to startups, can sometimes feel hectic. That's why one of our work culture essentials is to always prioritize what's really important to be done first to foster growth. We've adopted an agile framework for our development team, working in sprints. But we understand that sometimes inspiration strikes at odd times so we don't micromanage our team's schedules. Instead, we trust that they will complete the work that needs to be done first and take care of lower-priority tasks when they have the time and inspiration for it. It's because we've learned that lower pressure actually equals more productivity. And happier folks. Cool, that's us – probably said Vlad and Tibi to each other – Wave Studio's co-founders discussing how to handle this sort of stuff.
Encouraging Open Communication
Our communication is informal, we are encouraged to act naturally and casually in all internal contexts. This is not the place where people should spend time making beautiful Powerpoint presentations stuffed with tons of vanity metrics. Instead, our leadership cherishes in-depth insights, creative thinking and problem-solving, genuine proactivity and honesty.
Democratic Decision-Making
We are a pretty flat organization where every voice matters. We make most decisions democratically, acting as a quality focus group to discuss everyone's ideas. This agility allows us to be super responsive in our work and to our team's needs. At Wave Studio, you don't need to register a ticket for a work certificate; that's one of the benefits of a small, less structured team.
Emphasizing Self-Care
Self-care is high on our priority list. We acknowledge our team members aren't robots, except their Chat GPT assistants. So when someone needs a break for physical or mental wellness, we're all for it. That's because we know taking care of ourselves is key to taking care of our work.
Remote Work Advantages
Working from home has a whole bunch of benefits, and our remote work policy has supercharged our team's productivity, morale, and overall quality of life. Some of the sweet perks we've enjoyed include:
Increased flexibility and adaptability
Reduced commuting time, expenses, and stress (bye-bye, traffic jams!)
Ability to work from anywhere in the world (just give us good Wi-Fi!)
Improved work-life balance
Reduced environmental impact
How Do We Overcome the Downsides of Remote Work?
But, we have to admit, there's a big downsize to a fully remote policy, and that is the lack of social connection that can appear. To overcome that, once the Pandemic restrictions were relaxed, we decided to host 2 major teambuilding events each year. Since we've started to work from home, our team grew with new peeps from all over the country so those are the only occasions to all meet up. In addition, to help us get together as often as we feel like, or just to change the walls, we offer a Pluria subscription. This gives us access to a bunch of co-working spaces convenient to most of us, available in the main cities in the country.
Social Responsibility: Wave for Good!
We empower everyone on our team to get involved socially, as we do, financially, as a company. We feel we have a responsibility to give something back to society. So we support causes that are meaningful to us and our community inside and outside Wave Studio. We are allies for diversity and partners of organizations that help children, advance technology, support education, health, or entrepreneurship – just to list the topics from our recent initiatives. Getting involved means bringing attention to important causes through integrated communication campaigns, or providing financial support. While we choose to put our money where our mouth is as a company, we also encourage our employees to share with us what NGOs they admire and could be added to our CSR plans.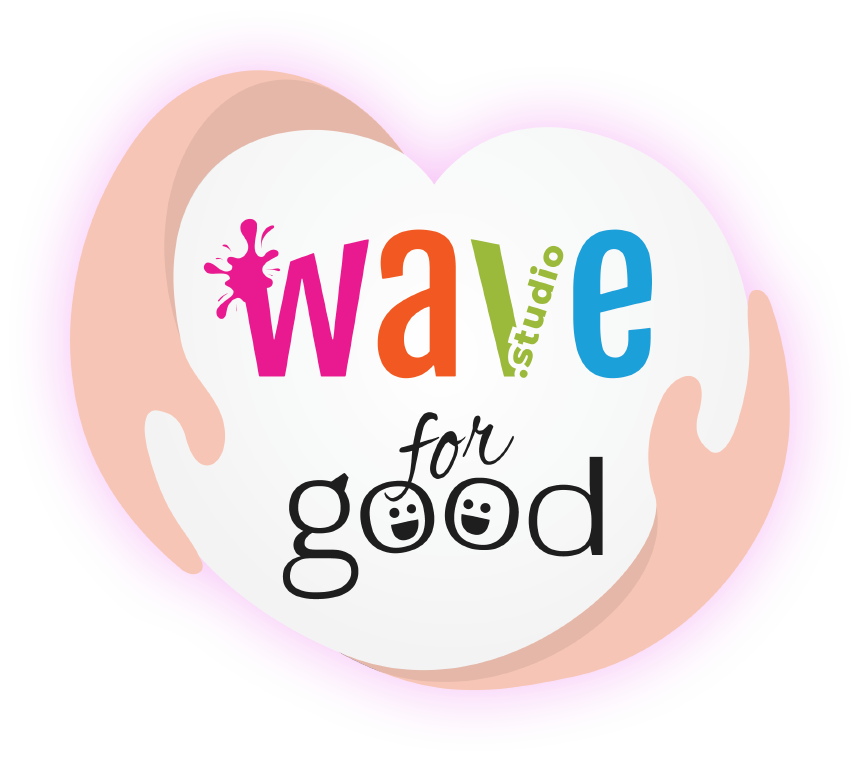 Are You Ready to Join Our Wavesome Team?
And that is how we ride the wave at Wave Studio! Our hearts swell with pride for the awesome culture we've brewed through our company values and unique work policy. This isn't just us talking – it's the feedback we get from our very own wavesome folks! The road ahead is as bright as a sunny day, and we're all geared up to inspire and innovate more. This blog post is our little way of giving you a sneak peek into our world and the cool benefits we enjoy. Now, if you happen to be a whizz in any role related to mobile apps, we should chat! Our doors are always open for new friends who can bring their talents to our fun-loving team. So, don't be shy and drop us a line – we're eager to hear from you!